$33.00
NZD
Category: Health
Too many men are suffering with their emotional health issues in silence, and male suicide rates are high. Men are affected by everyday stress, high workloads, anxiety and depression, loss of confidence or identity, relationship breakdowns, family disruption, addictions and trauma -- just the same as wo men. But society has placed a stigma on men's mental health. Men have found it hard to reach out in the past because of a sense of shame that comes from our society. But men are changing. They are re-defining what it is to be "strong," and are more open to understanding their emotions and reaching out for help. The Changing Man: A Mental Health Guide explores a range of issues affecting men's emotional health and well-being, and provides a collection of tried and tested tools to ensure no man suffers in silence again. From dealing with addiction, to bettering relationships, overcoming depression, working through sexuality concerns and realising that it is okay not to be okay, The Changing Man's methods and knowledge may just change your emotional health for the better. No shame. No silence. No anger. ...Show more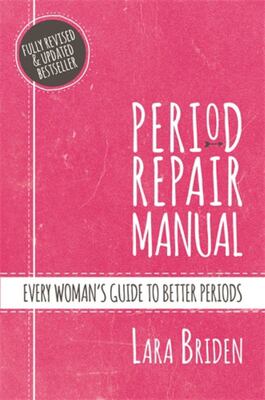 $35.00
NZD
Category: Health
Naturopath Lara Briden wants to give women the knowledge and tools to improve their period health. Every woman will menstruate in their lifetime, and one in two women will struggle with their period health. Lara's book, previously self-published, has already garnered rave reader reviews because of it d eals so openly and compassionately with this important aspect of women's health. Containing invaluable advice for women of every age and circumstance, and detailing natural treatments from nutritional supplements to a healthy diet, this book promises to help women change their relationship with their menstrual cycle. Topics include how to come off hormonal birth control; what your period should be like; what can go wrong; how to talk to your doctor; treatment protocols for all common period problems, including PCOS and endometriosis. Thoroughly researched and written in clear and accessible language, Lara Briden's Period Repair Manual is the ultimate guide to better periods. ...Show more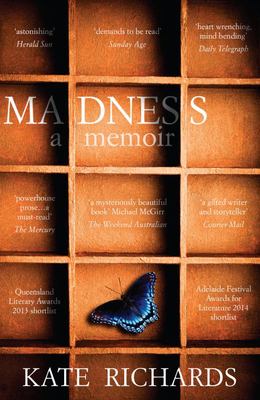 $26.00
NZD
Category: Health
Winner of the Adelaide Festival Awards for Literature 2014 nonfiction prize. Shortlisted for the Queensland Literary Awards 2013 nonficiton prize. It's not every day you get to admit you're mad.The thing with psychosis is that when I'm sick I believe the delusional stuff to the same degree that you migh t know the sky is above and the earth below.  and if someone were to say to me that the delusional thinking is, in fact, delusional, well that's the same as if I assure you now that we walk on the sky.  of course you wouldn't believe me, and that's why it's sometimes so hard for people who are sick like this to know that they need treatment.  Psychosis and severe depression have a huge effect on how you relate to other people and how you see the world.  It's a bit like being in a vacuum, or behind a wall of really thick glass . . . you lose any sense of connectedness.  You're cast adrift from everyone and everything that matters.I've lived with acute psychosis and depression for the best part of twenty years.  This is the story of my journey from chaos to balance, and from limbo to meaning.Kate Richards is a trained doctor currently working in medical research. 'Demands to be read' Sunday Age 'Heart wrenching, mind bending' Daily Telegraph'Astonishing' Herald Sun'A mysteriously beautiful book' Michael McGirr, the Weekend Australian 'Powerhouse prose . . . a must-read.' The Mercury'A gifted writer and storyteller' Courier-Mail  ...Show more
$35.00
NZD
Category: Health
The health benefits of intermittent fasting (IF) are now indisputable. Already proven to be an excellent way to control your weight, thereby reducing the risks of obesity-related illnesses, recent studies have also shown that it can lower cholesterol levels, reduce blood pressure, protect against heart disease and improve glucose control. Jaime Chambers is a practising dietitian with a clinic full of patients looking for advice on how to manage their weight. As a recent convert to part-day IF, she now prescribes this method as a matter of course, as it's by far the easiest and most effective tool for healthy weight control that she's seen. This book provides everything you need to know about part-day IF (16:8) and full-day IF (5:2) plus 40 delicious, nutritionally replete recipes. You can tailor the program to suit your lifestyle and individual health profile, and choose which elements suit you best. There are meal plans to help you incorporate fasting into your week, plus real-life success stories that will inspire you to give it a go. ...Show more
$36.00
NZD
Category: Health | Series: The\Plant Paradox Ser.
"I read this book... it worked. My autoimmune disease is gone and I'm 37 pounds lighter in my pleather." --Kelly ClarksonMost of us have heard of gluten--a protein found in wheat that causes widespread inflammation in the body. Americans spend billions of dollars on gluten-free diets in an effort to pro tect their health. But what if we've been missing the root of the problem? In The Plant Paradox, renowned cardiologist Dr. Steven Gundry reveals that gluten is just one variety of a common, and highly toxic, plant-based protein called lectin. Lectins are found not only in grains like wheat but also in the "gluten-free" foods most of us commonly regard as healthy, including many fruits, vegetables, nuts, beans, and conventional dairy products. These proteins, which are found in the seeds, grains, skins, rinds, and leaves of plants, are designed by nature to protect them from predators (including humans). Once ingested, they incite a kind of chemical warfare in our bodies, causing inflammatory reactions that can lead to weight gain and serious health conditions.At his waitlist-only clinics in California, Dr. Gundry has successfully treated tens of thousands of patients suffering from autoimmune disorders, diabetes, leaky gut syndrome, heart disease, and neurodegenerative diseases with a protocol that detoxes the cells, repairs the gut, and nourishes the body. Now, in The Plant Paradox, he shares this clinically proven program with readers around the world.The simple (and daunting) fact is, lectins are everywhere. Thankfully, Dr. Gundry offers simple hacks we easily can employ to avoid them, including: Peel your veggies. Most of the lectins are contained in the skin and seeds of plants; simply peeling and de-seeding vegetables (like tomatoes and peppers) reduces their lectin content.Shop for fruit in season. Fruit contain fewer lectins when ripe, so eating apples, berries, and other lectin-containing fruits at the peak of ripeness helps minimize your lectin consumption.Swap your brown rice for white. Whole grains and seeds with hard outer coatings are designed by nature to cause digestive distress--and are full of lectins.With a full list of lectin-containing foods and simple substitutes for each, a step-by-step detox and eating plan, and delicious lectin-free recipes, The Plant Paradox illuminates the hidden dangers lurking in your salad bowl--and shows you how to eat whole foods in a whole new way. ...Show more
$25.00
NZD
Category: Health | Series: Wellcome Ser.
For most of human history, death was a common, ever-present possibility. It didn't matter whether you were five or fifty - every day was a roll of the dice. But now, as medical advances push the boundaries of survival further each year, we have become increasingly detached from the reality of being mort al. So here is a book about the modern experience of mortality - about what it's like to get old and die, how medicine has changed this and how it hasn't, where our ideas about death have gone wrong. With his trademark mix of perceptiveness and sensitivity, Atul Gawande outlines a story that crosses the globe, as he examines his experiences as a surgeon and those of his patients and family, and learns to accept the limits of what he can do.Never before has aging been such an important topic. The systems that we have put in place to manage our mortality are manifestly failing; but, as Gawande reveals, it doesn't have to be this way. The ultimate goal, after all, is not a good death, but a good life - all the way to the very end.Published in partnership with the Wellcome Collection.WELLCOME COLLECTIONWellcome Collection is a free museum and library that aims to challenge how we think and feel about health. Inspired by the medical objects and curiosities collected by Henry Wellcome, it connects science, medicine, life and art. Wellcome Collection exhibitions, events and books explore a diverse range of subjects, including consciousness, forensic medicine, emotions, sexology, identity and death. Wellcome Collection is part of Wellcome, a global charitable foundation that exists to improve health for everyone by helping great ideas to thrive, funding over 14,000 researchers and projects in more than 70 countries.wellcomecollection.org ...Show more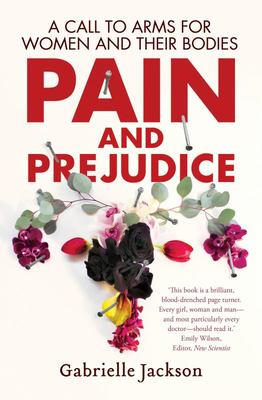 $40.00
NZD
Category: Health
Fourteen years after being diagnosed with endometriosis, Gabrielle Jackson couldn't believe how little had changed in the treatment and knowledge of the disease. In 2015, her personal story kick-started a worldwide investigation into the disease by The Guardian; thousands of women got in touch to tell t heir own stories and many more read and shared the material. What began as one issue led Jackson to explore how women - historically and through to the present day - are under-served by the systems that should keep them happy, healthy and informed about their bodies.Pain and Prejudice is a vital testament to how social taboos and medical ignorance keep women sick and in anguish. The stark reality is that women's pain is not taken as seriously as men's. Women are more likely to be disbelieved and denied treatment than men, even though women are far more likely to be suffering from chronic pain.In a potent blend of personal memoir and polemic, Jackson confronts the private concerns and questions women face regarding their health and medical treatment. Pain & Prejudice, finally, explains how we got here, and where we need to go next.'A major contribution to feminist writing of the 21st century' Caroline de Costa, Professor of Obstetrics and Gynaecology, James Cook University'Gabrielle Jackson deploys facts to tear away the destructive myths that surround women's health' Lenore Taylor, Editor, Guardian Australia'This book could not be more timely or important.' Katharine Viner, Editor, The Guardian ...Show more
$28.00
NZD
Category: Health
It has been ten years since the publication of The Biology of Belief, Bruce Lipton's seminal book on the relationship between mind and body that changed the way we think about our lives, our health, and our planet. During that time, research in this field has grown exponentially - Lipton's groundbreakin g experiments have now been endorsed by more than a decade of rigorous scientific study. In this greatly expanded edition, Lipton, a former medical school professor and research scientist, explores his own experiments and those of other leading-edge scientists that have unraveled in ever greater detail how truly connected the mind, body, and spirit are. It is now widely recognized that genes and DNA do not control our biology. Instead, they are controlled by signals from outside the cell, including energetic messages emanating from our thoughts. This profoundly hopeful synthesis of the latest and best research in cell biology and quantum physics puts the power to create a healthy, joyous life back in our own hands. When we transform our conscious and subconscious thoughts, we transform our lives, and in the process help humanity evolve to a new level of understanding and peace. ...Show more
$23.00
NZD
Category: Health
'Painfully funny. The pain and the funniness somehow add up to something entirely good, entirely noble and entirely loveable.' - Stephen Fry Sunday Times Humour Book of the Year Winner of the Books Are My Bag Non-Fiction Book of the Year Winner of Blackwell's Debut Book of the Year Winner of iBooks' Boo k of the Year Welcome to the life of a junior doctor: 97-hour weeks, life and death decisions, a constant tsunami of bodily fluids, and the hospital parking meter earns more than you. Scribbled in secret after endless days, sleepless nights and missed weekends, Adam Kay's This is Going to Hurt provides a no-holds-barred account of his time on the NHS front line. Hilarious, horrifying and heartbreaking, this diary is everything you wanted to know - and more than a few things you didn't - about life on and off the hospital ward. This audiobook contains an exclusive interview with Adam Kay by comedian and author Mark Watson, an afterword and updated bonus diary entries. ...Show more
$33.00
NZD
Category: Health
A practical and humorous guide that takes the worst thing about being a woman and turns it into the best thing, by 'period preacher', cult folk singer and former sex education teacher.
$46.00
NZD
Category: Health
The World's Fittest Book is set to become every fitness enthusiast's bible. Dubbed the body's complete user guide, it will become the go-to resource for learning all you need to know about building muscle, losing fat, eating (healthy) cake and unlocking your superhuman physical potential. Packed with w orkouts the author tried and tested in the pursuit of multiple world records, it's more than a book, it's the greatest training tool ever written Designed for anyone who wants to make permanent and lasting changes to their food and fitness, it's the first book to combine the teachings, tips and tricks of Olympic and World Champions into one, easy to follow resource.   This book will show you how it's possible to:   Live below 10% body fat with the aid of chocolate and Mayan secretsAdd 27% more muscle mass, courtesy of tips from world heavyweight championsIncrease speed by 10%, thanks to gold medal winning Olympic sprintersSquat, deadlift and bench weights you never dreamed of lifting, with the guidance of the world's strongest menImprove endurance capacity by 60%, thanks to the knowledge of world champions in multi endurance-based sports...all of which the author has achieved during the 10-year 'Fitness Pilgrimage' that has taken him around the globe.   Aiming to be the most eclectic and comprehensive fitness guide ever created, The World's Fittest Book is the sum and substance of over a decade of research and the collective wisdom of some of the greatest minds and athletic bodies in history. By learning the lessons within it, readers will understand 'fitness' better than the vast majority of the population. Every chapter will have an easy to digest workout within it and can be read individually. But if you want to read the stories and the science behind the routines, that's there too.   Until now, there hasn't been a book covering such an ambitious range of areas, catering for the casual fitness enthusiast seeking clarity and guidance in their own gym routine and kitchen habits as well as the seasoned sportsperson who's hit a plateau and is searching for tips, tricks and tweaks they can make to their training and diet. This book changes that, and will take you on a journey to whatever level of fitness you want to find. ...Show more
$33.00
NZD
Category: Health
An accessible, practical guide to preventing and managing children's allergies and improving their immune systems, from leading gastroenterologist Dr Vincent Ho.