$60.00
NZD
Category: TAROT
A simple deck that leaves the individual interpretation up to you. Glossy pink cards feature "OK" illustrations of all the major and minor arcana by artist Adam J. Kurtz.
$22.00
NZD
Category: TAROT
Be guided and inspired by the world's favourite felines with this fabulous set of advice cards.   Money problems? Consult Blackie the millionaire cat. Having a bad day? Ask the Cheshire Cat how he stays smiling. Lacking courage? Be inspired by Felicette, the first cat in space. Simply select a card fr om the pack, follow the advice inspired by the cat's personal philosophy and any obstacle will become surmountable.   Contains 50 advice cards plus a booklet featuring the cats' biographies and details of how to use the cards. ...Show more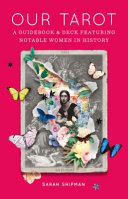 $18.00
NZD
Category: TAROT
Packaged in a deluxe, shrink-wrapped keepsake box--featuring a magnetic closure, ribbon, and guidebook--an innovative and stunning full-color feminist tarot deck that connects 78 notable women from history with the traditional archetypes and meanings associated with each tarot card.A groundbreaking blen d of history, feminism, and the mystical arts, Our Tarot is a unique, specially designed tarot deck with cards that feature an intricate collage portrait of dozens of powerful women who have helped shape history. Each card conveys the energy, messages, and symbolism its figure brings to the deck.  The set includes a full-color guidebook that offers a concise history of the tarot deck, an explanation of the deck and the significance of the cards, and tips on interpreting each, with instructive sample spreads to guide you. It explains the Major Arcana and Minor Arcana and their chronology, offers biographies that link each woman's life story, accomplishments, and traits with the card she represents, and explains the card's relevance in a reading. Originally self-published, Our Tarot was praised by the Huffington Post, which called it "a stunning deck . . . [that] honors a wide range of intersectional feminist champions." This fully revised edition includes 25 new entries; a refreshed design; and a full-color printing. In addition, each card from the deck serves as an interior portrait.  Each card in Our Tarot is inspired by the traditional meanings of the mystic Tarot and is represented by a woman (or group of women) who has influenced the world. These diverse women come from all eras in history, from 1300 BCE to the late twentieth century, and represent many ethnicities, creeds, socioeconomic classes, sexualities, ages, and abilities. Some of the women honored include Jane Addams, Benazir Bhutto, Lucrezia Borgia, Anne Frank, Frida Kahlo, Beatrix Potter, Florence Nightingale, nefertari, Elizabeth I, Cleopatra, Marie Curie, Zora Neale Hurston, Sophie Scholl, Cleopatra, Eleanor Roosevelt, and Ida B. Wells.  Contents include: Four-color, high-quality gift box with magnetic closure Four-color tarot deck in card box, set into an interior well with lift-out ribbon Four-color guidebook featuring biographies of all 78 women and their relevance to the deck with 5 black-and-white illustrations and 85 full-color images throughout  Sheet with image of the components  ...Show more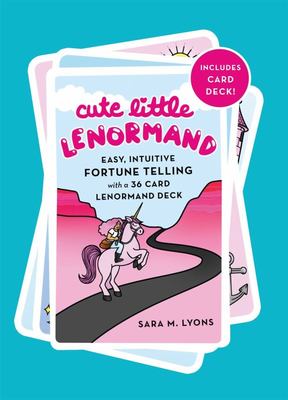 $44.99
NZD
Category: TAROT
Cute Little Lenormand is a colorful, modern take on a classic divination deck. Lenormand is a simple, intuitive form of cartomancy that can spark inspiration, shed clarity on confusing situations, and even hint at what the future might hold. With a touch of whimsy and a generous splash of pink, author a nd illustrator Sara M. Lyons has given this historical card deck a cute, contemporary makeover with playful pastel-hued illustrations and updated designs. Cute Little Lenormand includes a comprehensive guidebook along with a complete 36 card Lenormand deck, all designed and written with gender-inclusive language that invites everyone to see themselves in the cards.Cute Little Lenormand is written with the newbie in mind, so whether you're an expert card reader or a complete novice, you'll soon be interpreting with ease. The book includes explanations for each of the cards and walks you through how to read a spread, from your very first three-card vignette all the way up to the ultimate Lenormand spread--a 36 card grand tableau. Fun exercises throughout will help you hone your reading skills and explore the rich meanings of the symbols.Whether you use the cards as a way to kickstart your own intuition or as part of a magical practice, Cute Little Lenormand is the perfect introduction to cartomancy and the beautiful world of Lenormand. ...Show more
$25.00
NZD
Category: TAROT
From the creator of the best-selling Tattoo Colouring Book, The Tarot Colouring Book features images from Oliver Munden's equally successful Tattoo Tarot specially re-designed for colouring. From the golden lion symbolising Strength to the fertile green of The World, tarot imagery is bursting with signi ficance, and colouring fans will delight in the intricate details. Follow in the steps of the fool as he undertakes his tarot journey from innocence and ignorance to completion and perfection, as you colour your way through this personal growth journey in book form. ...Show more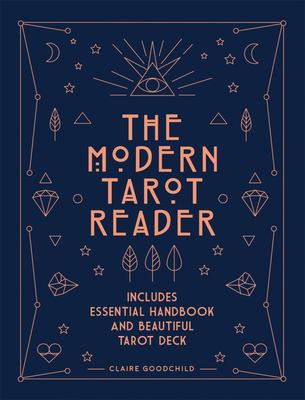 $50.00
NZD
Category: TAROT
Let award-winning artist and astrologer Claire Goodchild help you to unlock the ancient mysteries of the tarot as you harness this powerful tool of self-discovery and spiritual growth. This elegant pack comes complete with a hauntingly beautiful tarot deck and a brief guide to the art.
$50.00
NZD
Category: Spirituality
Archetypes are ancient, universal patterns of behavior that are embedded in what Carl Jung called the "collective unconscious." Caroline Myss has created a unique set of 72 Archetype Cards, each individually designed to provide the basic Light and Shadow Attributes of a different Archetype. The deck al so contains six blank cards on which you can create your own Archetypes. It comes with an instruction booklet explaining how to use the cards to help determine which Archetypes are most active in your psyche, and how they can lead you to achieve greater insights into your life. ...Show more
$60.00
NZD
Category: Spirituality | Series: The\Illuminated Art Ser.
This brilliantly colored Tarot deck and instruction booklet will lead you to increased self-knowledge and enlightenment. The lavishly illustrated cards portray the major and minor arcana and can also be used for traditional card games.
$45.00
NZD
Category: Spirituality
The Original Rider Waite Tarot is the most popular and widely used tarot card deck in the world. First issued in 1910, each card is rich in symbolism and striking in its design. Divided into the Major and Minor Arcanas, the cards were designed by Pamela Colman Smith in accordance with A. E. Waite's in structions. An instructional booklet is included, explaining the tarot card meanings and how to use the cards for divination, with an introduction by Stuart R. Kaplan. ...Show more
Items per page:
1 - 9 of 9